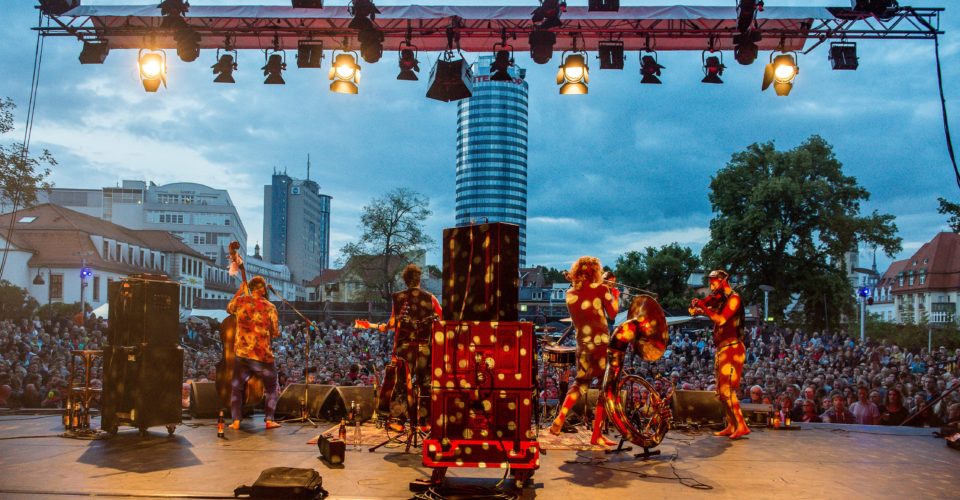 50 days, more than 30 events and well over 70,000 visitors:
The Kulturarena Jena open-air festival takes over life in the city during the summer months. It's pretty much a separate season in itself, when the locals and visitors to the city of light join together to celebrate and enjoy the music. For six weeks each year, during July and August, the square outside Jena's theatre is transformed into one of Germany's most buzzing cultural hotspots.
The following phenomenon can be observed in Jena every summer:
Software developers sit at the windows of their high-rise offices lost in dreamy thought, university lecturers interrupt their seminars, market traders sway in time with the rhythm, and visiting tourists don't know where to look first. And the cause of all this peculiar behaviour?
Just some artist at the Kulturarena doing a soundcheck on his instruments!
Jena's Kulturarena isn't just another music festival.
Simply wandering through Jena's city centre during the summer gives you a sense of how different this is. It's an event that has been capturing the imagination of the entire city since 1992. During the six weeks of the festival, the main venue outside the Theaterhaus on Arenaplatz square welcomes a total of 70,000 festivalgoers. But every evening, hundreds of people also line the surrounding streets and squares enjoying the sounds that seem to emanate throughout the city.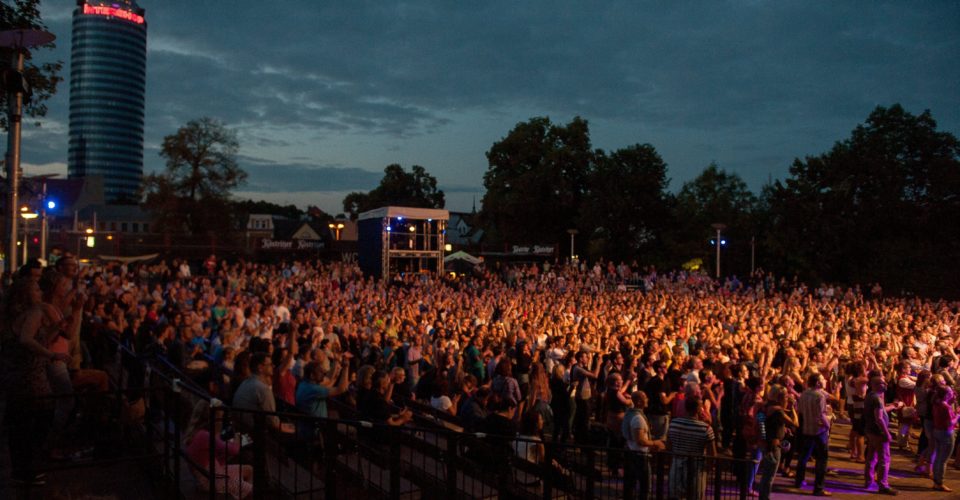 Numerous stars have appeared over the years:
From Patti Smith and John McLaughlin to Ruben Gonzales, from Esbjörn Svensson and Sophie Hunger to CocoRosie. In addition there are plenty of unknown, or not-yet-known, musicians and artists. Among the acts appearing at Kulturarena 2018 were Freundeskreis, Fink and Tocotronic.
Over the years, the event has developed a hugely varied programme that doesn't consist solely of pop and rock concerts. The schedule features everything from plays, classical concerts and intimate acoustic gigs to children's activities, the club night series and film nights on days when no concerts are taking place.