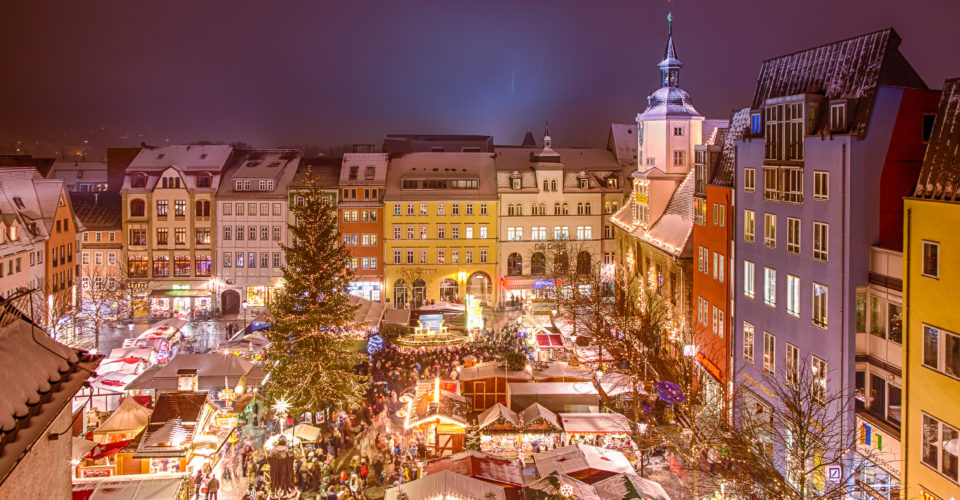 The Christmas market in the city of light has a history going back 200 years, and it is one of the most beautiful markets in Thuringia. In time-honoured tradition, it opens with the first cut into a giant, four-metre-long stollen cake, followed by carols from a brass band.
It's not surprising how many visitors make their way to Jena in the run-up to Christmas. At more than 100 seasonally decorated stalls they can buy all the large and small treasures, gifts and treats guaranteed to get them into the festive spirit. With the huge, brightly illuminated Christmas tree in the middle of the historical market square, the region's tallest Christmas pyramid on Eichplatz square, and the historical Christmas market between St John's Gate and the Pulverturm tower, Jena's Christmas market is perfect for browsing or simply whiling away the hours.
A highlight for many visitors are the carols played by a brass band.
Every afternoon at five, musicians from a local brass band play carols from the windows of the historical town hall – a tradition dating back more than 25 years.
Location
Jena town centre
Opening times: 11am to 9pm every day (stalls close at 8pm)
Location: historical market square, Eichplatz square, Rathausgasse
Includes: around 110 stalls selling local food and drink, arts and crafts, accessories, gifts, Christmas trees and much more
Special features: historical Christmas market, Christmas funfair on Eichplatz square, extensive children's entertainment
Free entry!
Jena's next Christmas market will take place from 23 November to 22 December.
Jena Christmas market