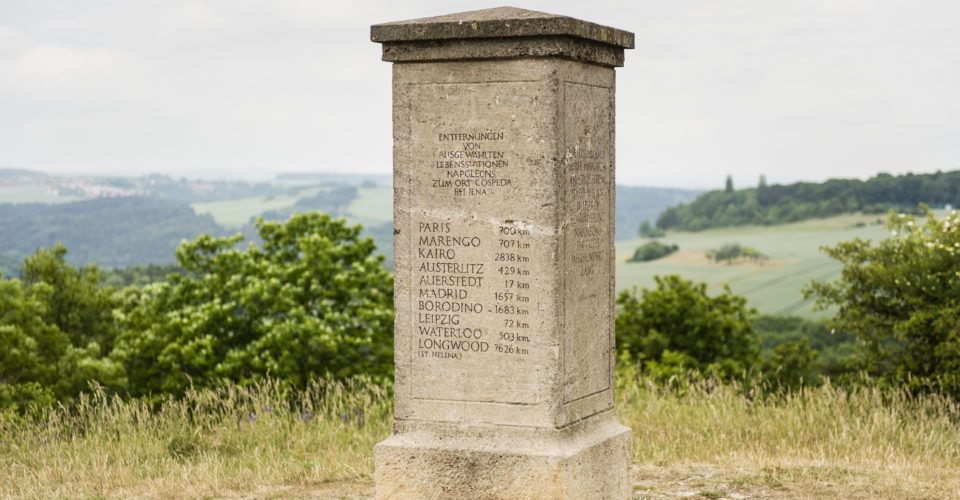 Take a multimedia journey back in time to the 1806 battlefield at Windknollen hill
The Battle of Jena and Auerstedt in 1806 has a firm place in the history books. Napoleon's triumph over the Prussian army is presented in an authentic, almost tangible way in this multimedia audio walk. Shouted orders, screams, horses whinnying as they gallop past, shots and explosions – equipped with an MP3 player and headphones, visitors embark on an acoustic journey across the 1806 battlefield.
This interactive walk was created by Janet Cardiff and George Bures Miller, winners of the City of Jena's 2004 Botho Graef Art Prize. Visitors can immerse themselves in the battle, which saw the Prussian army suffer a heavy defeat at the hands of the French troops under Napoleon. They are guided along a specific route by a multi-layered soundtrack featuring a ghostly voice, a range of instructions and a rich texture of sounds and voices.
Location
Museum 1806, Jena-Cospeda
Participants
1 – 20 person(s)
Price per person
3€
Duration
approx. 30 minutes 

(at least 15 minutes return journey)

Language
german, english
Equipment rental
up to one hour before the museum closes
Information
Jena Tourist-Information
The team at Jena Tourist Information will be happy to help you plan your trip.

Markt 16, 07743 Jena + 49 3641 498050 Send us an email