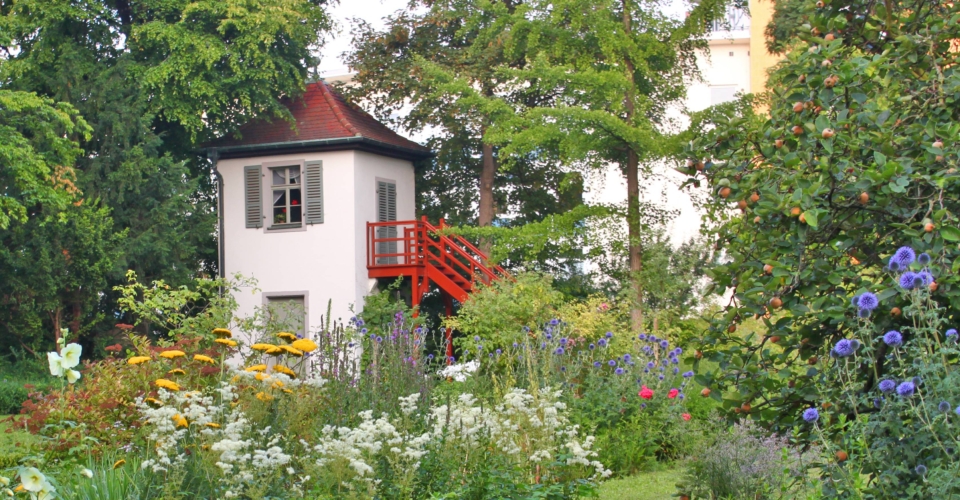 Learn all about the life and legacy of Friedrich Schiller on the veranda of his summer house.
The years he lived in Jena (1789-1799) were some of the most productive of his life.
It is here that he worked as a historian, poet and philosopher. And it was during this time that his friendship and correspondence with Johann Wolfgang von Goethe flourished. Their collaboration was a significant factor in how Jena, in around 1800, became a centre of philosophical thinking that influenced all of Europe.
Talks and lectures at Schiller's summer house
Schiller's decade in Jena (1789-1799)
A fortunate circumstance – the correspondence and friendship between Schiller and Goethe
Morphology and metamorphosis: Goethe's exploration of nature
A reading of ballads by Schiller and Goethe
Life and legacy of Charlotte von Schiller (1766-1826)
A history of Schiller's summer house
Ernst Abbe and Carl Zeiss
| | |
| --- | --- |
| Group | max. 30 |
| Location | Veranda of Schiller's summer house |
| Duration | 1 h |
| Group price | 90€ |
| Not included | Admission to Schiller's summer house €3.50 (concessions €2) per person |
Also available: guided tour of Schiller's house and garden
| | |
| --- | --- |
| Group | max. 20 |
| Duration | 45 – 60 min |
| Group price | 30€ |
Booking
Jena Tourist Information
The team at Jena Tourist Information will be happy to help you plan your trip.

Markt 16, 07743 Jena + 49 3641 498050 Send us an email