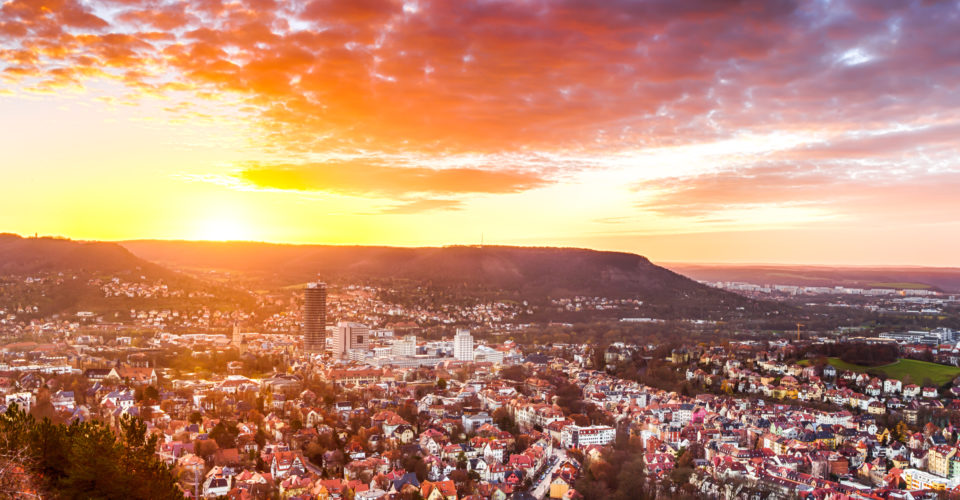 JenaCard, a ticket to more than 30 attractions – valid for 48 hours
Valid for 48 hours (from the time the ticket is first used)

48 hours of free travel on the trams and buses of Jena's public transport network

Free of charge: public general guided tour | Jena museums: free entry to the municipal museum and Kunstsammlung art gallery (excluding special exhibitions, where reduced price applies) and the Romanticist House | Janet Cardiff audio walk |  Schott Villa |  Archaeological Collection
Reduced admission: botanical garden with Goethe Museum | Schiller's summer house | Zeiss Planetarium Jena | Museum of Phylogenetics | Leuchtenburg Castle | Kulturarena festival | Theaterhaus Jena theatre | Jena Philharmonic Orchestra | Reading Marathon | Volksbad arts centre | Kurz & Klein cabaret theatre | Water parks and pools operated by Jenaer Bäder und Freizeit GmbH | Dornburg Palaces

Savings:

Imaginata activity park |

Museum 1806 in Cospeda |

Panoramic observation platform at the JenTower

| Fräulein Meier | Bike Point Jena | POM – fitness centre
Bonus: Bauersfeld restaurant | Zur Noll restaurant | Wirtshaus Daheme | Kaffeehaus Gräfe | kabuff | CONTIGO fairtrade shop | Del Corazón | Mustard museum

Price: €11.90
Discover Jena – whether you're a tourist, a visitor or a local. The JenaCard also makes a great gift for friends, relatives, business partners and corporate clients.
Information & booking
Jena Tourist Information
The JenaCard and the JENA á la CARD are available at Jena Tourist Information.

Markt 16
07743 Jena +49 3641 498050 Send us an email
JENA á la CARD package deal
Striking a balance between available holiday and your own innate wanderlust can often be tricky. A short break may be the answer. How about a weekend in Jena?
Mini-break in Jena
The JENA à la CARD package deal allows you to discover Jena, the city of light, in 48 hours. Retrace the steps of famous historical luminaries, enjoy typical Thuringian hospitality and explore the city's thriving arts and cultural scene.
The JENA à la CARD package includes two nights' accommodation with breakfast buffet, one à la carte meal, a Jena information pack and one JenaCard. The JenaCard offers a number of discounts in Jena, free public guided tours of the city and free use of local public transport.
The package includes:
2 nights with breakfast buffet in a choice of hotels in Jena*
1 JenaCard (valid for 48 hours) for more than 30 attractions in Jena
and free travel on Jena's local public transport
1 à la carte meal (including 1 drink) at a historical restaurant
Jena information pack
Available: throughout the year
Book at least 2 days in advance
Price per person: double room from €114 | single room from €164
* available hotels:
Best Western Hotel Jena****
Hotel & Kneipengalerie "Zur Noll"
Hotel VielHarmonie
Please contact the team at Jena Tourist Information.