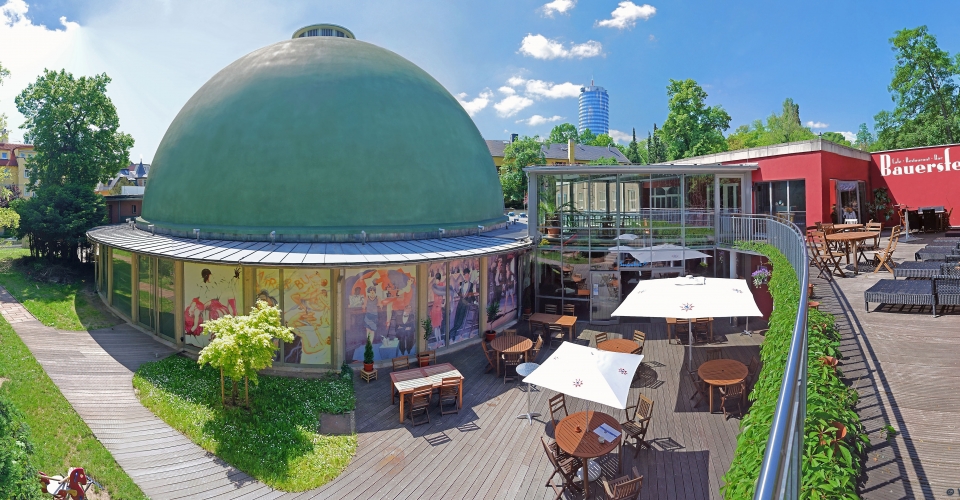 Welcome to the fantastic world of galaxies, stars and planets.
Discover the fascination of the entire universe at the Zeiss Planetarium. It will take you on a journey to far-off worlds for an experience beyond your wildest dreams.
The planetarium in Jena is one of a kind.
Opened in 1926, it is the oldest continuously operating projection planetarium in the world. A brand-new laser all-dome projection system provides entertainment and education in the form of live presentations, children's programmes, audio nights, musical laser shows and a range of exclusive events. Experience it live. Look through Galileo's telescope and dare to go on a breathtaking space flight. Get beamed on board a space station and go for a walk on distant planets, courtesy of Cassini and Hubble. Dive down into the depths of the oceans and discover the unique underwater world in all its colour and variety. Enjoy some celestial entertainment in the world of Kiki and the 'Heavenly Director', get swept along by the legendary music of Queen or experience a magnificent rock spectacular – the possibilities are endless.
Architecture
The Zeiss Planetarium in Jena is not just a popular visitor attraction. The building itself also has fascinating architectural features.
It was constructed between 1924 and 1926, using an injection-moulded geodesic dome for projection planetariums first developed in the early 1920s by the engineer Professor Walter Bauersfeld. An original design for the building by Adolf Meyer, Walter Gropius' right hand man, was never realised. Instead the Jena architects Schreiter & Schlag were awarded the commission. Their design aesthetic shows the influence of the Neues Bauen architectural style.
The dome of the planetarium is 25 metres in diameter and consists of a network of 7,992 steel rods embedded in a layer of concrete only 6cm thick.