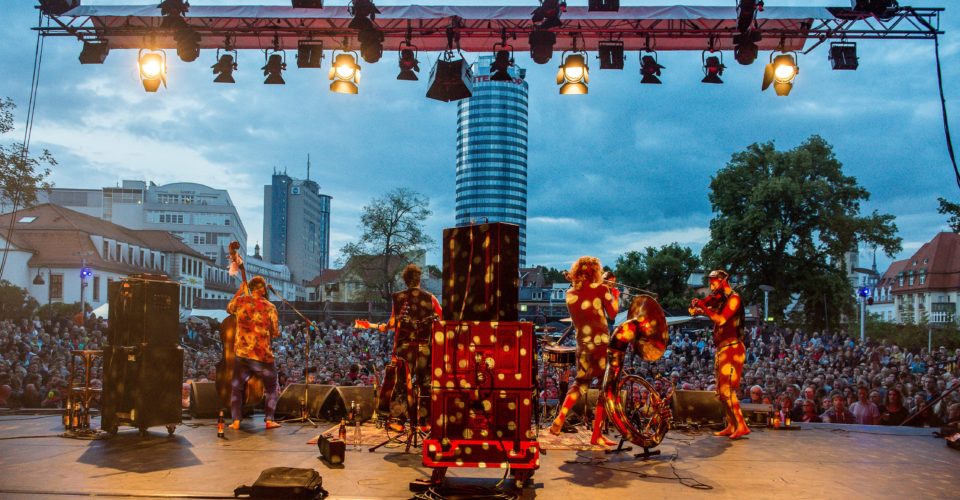 There is always something to celebrate in Jena, so you're more than likely to experience one of our many festivals and other events during your visit. Foremost among them is the internationally acclaimed Kulturarena festival. Attracting over 70,000 people and featuring more than 30 individual events, it pretty much takes over life in the city for six weeks.
Jena's markets are perfect for strolling, browsing, exploring, tasting and chatting. In Jena, markets offer choice and quality and are an experience in themselves. There are markets with specific themes, such as wood, crafts, pottery, food and drink, and bric-à-brac, but also seasonal favourites, like the Christmas market, the old town festival and the spring fair.
Sporting passions have a long tradition in Jena. In addition to the football games played by FC Carl Zeiss Jena, there are also plenty of fans who support our basketball and women's football teams. By far the best way to really get an insight into Jena and its inhabitants is to visit one of the home games.
The Jena duathlon, triathlon, relay races, mountain runs and a long-distance walking challenge that covers 100km in 24 hours – our sporting events attract professional and amateur athletes from around the world every year. Although the focus is on physical performance and challenges, the social aspect and the chance to make new friends, along with stunning scenery, are also high on the agenda. Seize your opportunity to take part in one of Jena's running events.
Information & tickets
Jena Tourist Information
The team at Jena Tourist Information will be happy to help you plan your trip.

Please contact the team at Jena Tourist Information.

Markt 16, 07743 Jena +49 3641 498050 Send us an email