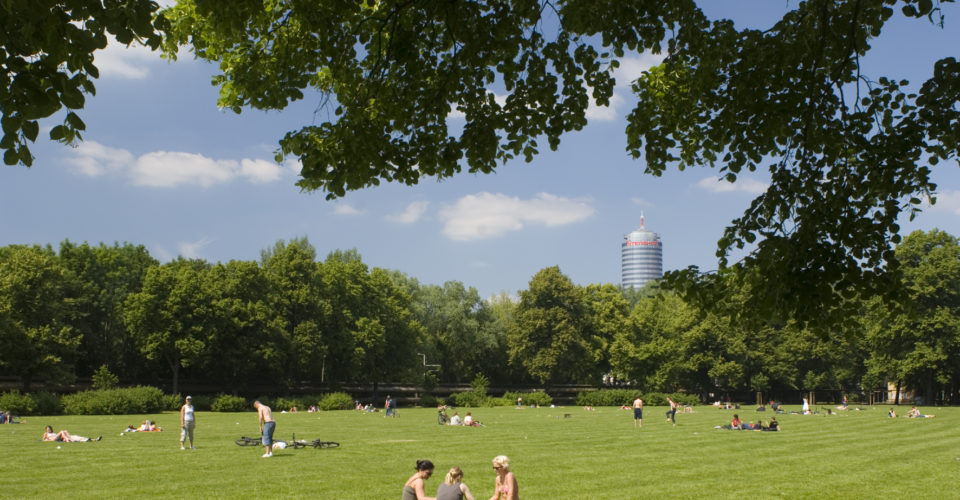 Paradies Park is a green oasis in the heart of the city and offers something for everyone. Whether you want to get active, play or relax, the three adjoining green spaces of the nature conservation area offer plenty of room.
The park has been designated a cultural monument, and its welcoming grounds are a popular place to burn off energy, chill out or fall in love. Whatever the weather, the park attracts people in their droves who flock here to enjoy its verdant spaces.
Locals and visitors mingle as they play, barbecue, get active or enjoy concerts in the Glashaus or the open air. They all appreciate the luxury of being surrounded by lush green in the heart of the city.
Paradies Park offers many exciting activities – in addition to the large children's playground, slacklining area and skate park, there's also plenty of covered seating and tables. And if you haven't brought along anything to throw on the barbecue, you can always grab a bite to eat at Strand22, ParadiesCafé or Salü.
Skatepark in Paradies Park
A lot of thought went into the planning of the skatepark. There are wallrides, high jumps, and spectacular transfers, and the elements are arranged in an optimal layout. There's also a street section featuring a pyramid with a range of curbs, londengab and an olli box – there really is something for everyone.
Free to use (Monday to Sunday in summer 1.03.-31.10. 8am – 10pm and 1.11.- 28/29.02. 8am – 8pm in winter)
Slacklining
Paradies Park also has an excellent slackline area that will put your balancing skills to the test. There's a permanent line for beginners and various steel anchor points where you can attach your own line.
Jena Paradies im Volkspark Oberaue Jena
Location
Jena Paradies (Volkspark Oberaue)