When Jena hosts twelve special readings by local and international authors it doesn't just attract the attention of bookworms and literature fans. But there's more!
Since 1996, the Ernst Abbe Library, the library's Neue Lesehallenverein association and the Lese-Zeichen e. V. association have presented an extensive and diverse programme every year in October and November.
Over a period of almost four weeks, the reading marathon offers readings by fascinating authors, exciting discussions and lots of events for families and children. The varied programme includes both fiction and non-fiction writing.
Information and tickets are available from Jena Tourist Information.
Location
Reading marathon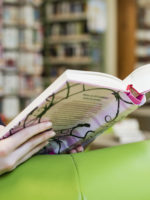 Volkshaus Jena and other locations in Jena To the website