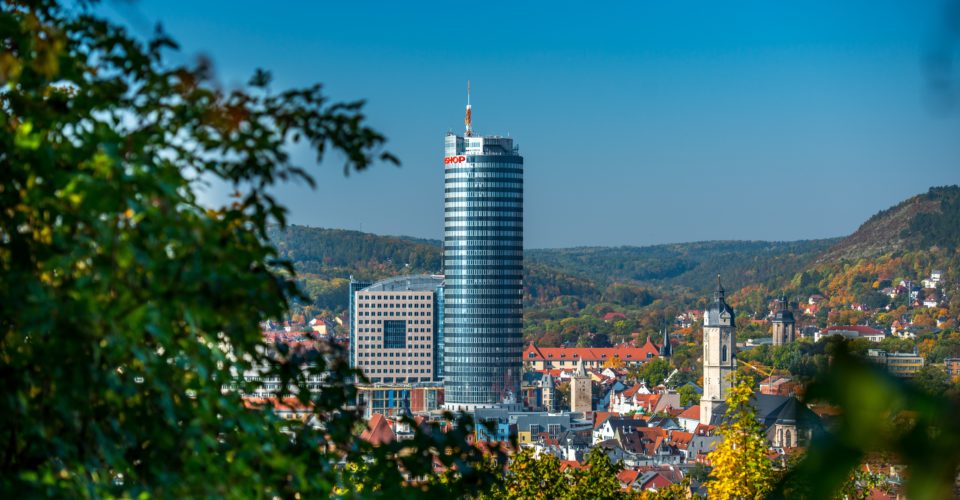 The city of light's most famous landmark is clearly visible from afar. The building doesn't only house offices. One of its upper floors contains a hotel and a restaurant, as well as an observation platform for visitors to Jena with a head for heights.
At 159 metres high, it is also the tallest tower in Germany's new federal states. The observation platform is open every day, offering magnificent panoramic views across the city of light from a height of 128 metres.
Opening times:
Our tip:
The Scala Card, available from Jena Tourist Information, includes a voucher for the Scala restaurant as well as free lift access and entry to the observation platform. Price: €8 per person.
Architecture
The tower was originally built as a new research centre for the Carl Zeiss company. The cylindrical design by East German star architect Hermann Henselmann is intended to resemble the eyepiece of a telescope.
Built at the beginning of the 1970s as a research centre for Zeiss, the tower was used by the university until the middle of the 1990s. From 1999 to 2000, the tower was completely gutted before being upgraded to the latest technical and architectural standards as part of an extensive renovation. The underlying reinforced steel structure remained intact, but the old exterior was removed and replaced with a glass frontage. The building also received a new base, which today houses the Neue Mitte shopping centre.