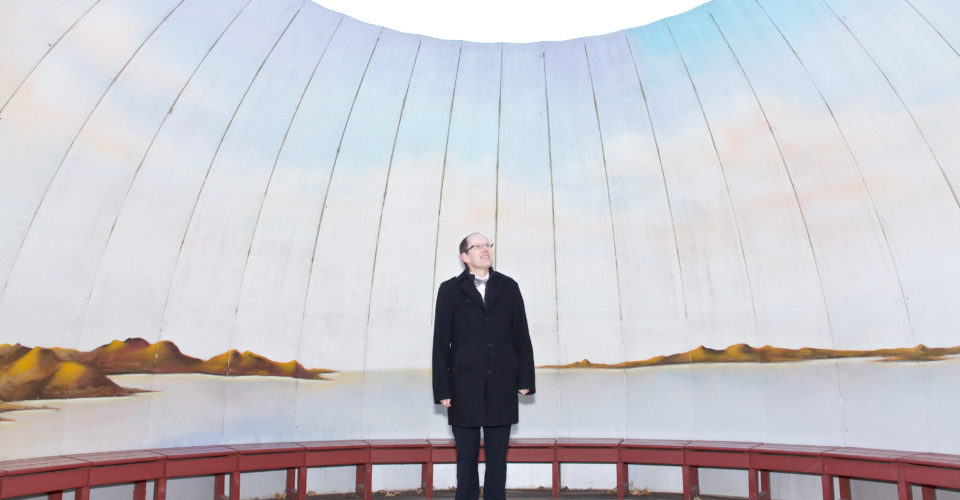 A man, a trombone and a clear message: Gerhard Paulus is Professor for Nonlinear Optics at Jena University. In the city, he is known not only as a man of science but also as a committed campaigner against the far right. In this interview, he talks about courageous free spirits and his convictions, and explains what makes Jena so special.
Professor Paulus, you are regularly seen at demonstrations. Where does your sense of civic engagement come from?
Out of a deep sense of conviction. We all know about our country's past and no one wants to see the same thing happen again. After the fall of the Berlin Wall, a neo-Nazi scene took root in Jena, with the National Socialist Underground (NSU) being the most extreme offshoot of that. Thanks to the remarkable efforts of the local community, this scene was forced out of the city – long before I came to Jena. But in the last two years or so, we have seen a resurgence of national socialism in Germany and Europe. It seems these neo-Nazi groups are daring to return to Jena – they have organised several demonstrations here. As a representative of the university, but also as a private individual, I consider it my duty to get involved. Many of my colleagues at the university, including the President, are doing the same.
You were involved in the Klang der Stolpersteine event in Jena on 9 November 2017, to mark the day of the pogrom of 1938. What was this event all about? 
At some point, I came up with the idea of bringing my trombone to demonstrations. Before long, you come across like-minded people who also play instruments. On 9 November last year, a neo-Nazi demonstration was held. It couldn't be prevented despite fervent opposition from the local community. But there was at least a large counterdemonstration. As part of this, we held our first concert at one of the locations of the 'stumbling stones' (plaques in the pavement commemorating victims of the Nazi regime). We then had the idea of holding concerts like this at all the stumbling stone locations. We also hoped that if 25 demonstrations were registered in the city, there would be no room for a neo-Nazi demonstration. This worked very well and we were absolutely delighted with the response from the local people. It was a moving experience – a dignified commemoration in an appropriately solemn atmosphere. At the same time, we had also managed to prevent the day from being marred once again by a handful of neo-Nazis.
There have also been many people in Jena's past who have stood up for their convictions. In the former East Germany, for example, Jena was considered a dissident stronghold.
Why was or is the city so strongly associated with free thinkers?
It's difficult to say why, but it struck me too. Take Ernst Abbe, the city's most famous physicist, for example: he was a great scientist, a great industrialist, but above all a liberal social reformer – a role model through and through. In the former East Germany, students showed amazing courage and went to prison for their convictions. Many were expelled for making critical remarks. Today, a remarkable number of students from my faculty take part in demonstrations against the neo-Nazis. Jena is beautiful. But true beauty comes from within. It is the civic engagement – and not just against right-wing extremism – that makes Jena such a great place to live.
If you want to trace the history of these free spirits from former times, where should you go?
You can find out about the lives and legacies of famous figures such as Abbe, Zeiss and Schott at the Optical Museum. And there are connections to Goethe, and of course Schiller too, all over the city. If you walk up to the Landgrafen restaurant, you can see the sites of battles against Napoleon, who achieved a major victory in Jena. Just driving around this region, and knowing it is where Bach and Schütz came from, where great philosophers taught, and Goethe and Schiller wrote – you realise that it is a nucleus of German culture. The legacy of the past can be felt all over the region.
And we have not even touched on Martin Luther yet…
Although Luther is not buried in Jena, there is a memorial stone commemorating him in St Michael's Church. This unusual monument illustrates just how significant he is to Jena. The Reformation even played an instrumental part in the foundation of Jena University. Indeed, it was established as a result of defeats in wars after the Reformation. John Frederick the Magnanimous had lost the battle of Mühlberg against the Emperor and was held captive and condemned to death. Whilst in prison, he founded what would become Jena University, as he had lost his own university in Wittenberg, together with a large part of his territory and his electoral title.
Let's return to the present day for now. Would Jena be the city it is today without these free spirits from the past?
Definitely not. Without Goethe, who incidentally also founded the observatory here, the university would probably no longer exist. The university and the whole city as it is today would be inconceivable without Abbe, Zeiss and Schott. Jena would probably be a small and relatively insignificant town.
As well as your commitment to social causes, you are also passionate about attracting the next generation of talents into science. How can we get young people enthusiastic about science nowadays? 
The fact that we don't have enough young people on science and technology courses is certainly a national problem, but it is hitting a high-tech university city like Jena particularly hard. The Year of Light in 2015 was a great opportunity to address this issue within the context of a major event. It was a very positive experience and has inspired us to organise a STEM festival every two years, starting in 2018. We want to get schoolchildren, particularly from outside the city, to come to Jena to discover how fascinating science can be within the setting of our lovely city.
Are the planetarium and Imaginata on the programme? 
Of course. The planetarium is a real gem in Jena. The Optical Museum is set for a major upgrade soon and we have high expectations of this – particularly when it comes to attracting young people. Imaginata is also a great attraction.
Jena is known as the city of light. What associations does that have for you?
As a physicist, I immediately think of optics, lasers and photonics. But it's clear that the city of light means much more than that. The university's motto is 'Light, Life, Liberty' – and Jena is a place of enlightenment in every respect. This transcendent meaning of light shines through wherever you go.