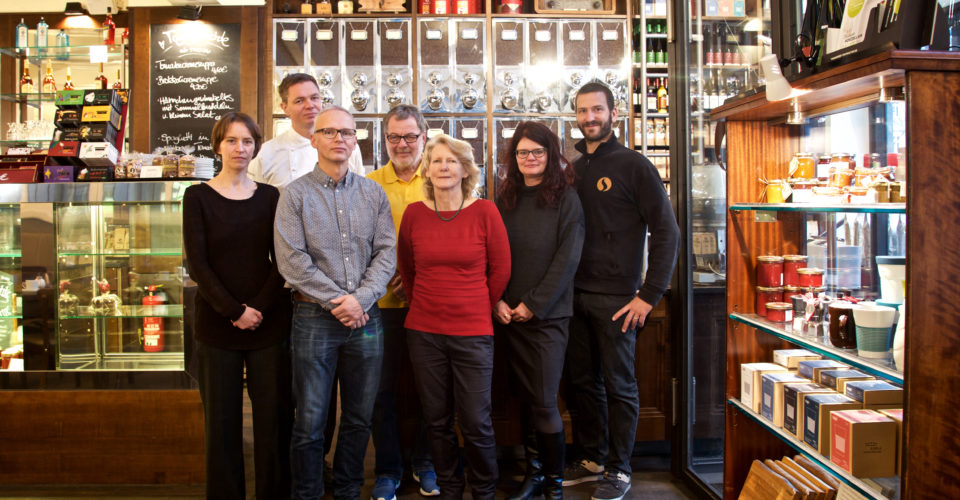 The standard examples of Thuringian cuisine – from bratwurst and roulades to dumplings – are internationally acclaimed, and for good reason. But there is a lot more to culinary culture in the Saaleland. The region is home to a host of different products, from traditional household items crafted in porcelain, ceramics, wood or glass, and the specialities of Thuringian cuisine, to the output of regional food and drink producers.
The Culinary Thuringia (Thüringer Tischkultur) project aims to raise awareness of the region and its culinary attractions. Its partners are cafés and restaurants, artisans and regional farmers. They represent Thuringian quality, and combine tradition with modern influences and the friendly welcome of the host region. Businesses and restaurants from Jena are also among these partners, of course. Here, they provide a brief insight into culinary traditions in Jena.
Braugasthof Papiermühle (Claudia Kanz): What beer should you try in Jena?
What people like about Jena beer is that it's natural, unfiltered and made using mainly local ingredients, and that it doesn't contain artificial preservatives. The best-known Jena beer is Schellenbier, a simple Bock beer that is almost black in colour. The beer and its name are thought to date back to the early days of the university. It was also sold in the former East Germany as Schellenbier and was very popular. Although you shouldn't drink beer too cold as it can impair the flavour, here in Thuringia, we like our beer to be properly chilled. It's best enjoyed with some hearty food such as schmalzbrot, Thuringian sausage, Harz cheese and onions.
Braugasthof Papiermühle GmbH & Co. KG
Erfurter Straße 102
07743 Jena
Kaffeehaus Gräfe (Mario Gräfe): What is the coffee culture like in Jena?
Here in Thuringia, we like variety. Different kinds of traybakes are typical, which we like to serve as colourful bite-size pieces on a dessert plate. There is something to suit every taste: from fruit cakes to varieties with marzipan and poppy seeds. 'Prophet cake' is really traditional here: an East Thuringian speciality made from thin pastry, which gets its characteristic waves while being baked and is served with a good dusting of icing sugar. Desserts are best enjoyed the traditional way with a dollop of cream and a little pot of coffee.
Kaffeehaus Gräfe OHG
Johannisplatz 8
07743 Jena
Zur Noll hotel and restaurant (Michaela Jahn): What are the hallmarks of Thuringian hospitality?
Thuringian hospitality is synonymous with friendly hosts who always offer their guests a warm welcome and exceptional food and drink, ideally made from locally sourced ingredients. Local restaurants will serve bratwurst sausages and dumplings, but they are not the only Thuringian specialities by any means. At our restaurant, you can enjoy freshly caught trout from Wichmar, turkey liver from Altengönna or Tomahawk steaks made from Bucha pork. Along with our local food and drink, you'll also find everything you need for a perfectly laid table: porcelain, wood, glass and of course – to accompany your meal – wine and beer from Thuringia and even Jena.
Gaststätte "Zur Noll" GmbH
Oberlauengasse 19
07743 Jena
Jena Mustard Manufactory and Museum (Wolfgang Reppen): Which mustard should you try in Jena?
Mustard has a long tradition in Thuringia. At our museum, you can still see the equipment that was used to make mustard in days gone by – the oldest grinders date back to the 12th century. Mustard is so versatile: it can be served with cheese or main courses, or used in salad dressings and pasta dishes. Bratwurst mustard is, of course, a Thuringian speciality. But we also produce some unusual varieties such as chocolate mustard. The important thing is to ensure that only high-quality ingredients are used. Our mustard seed comes from Thuringia and we do not use any artificial additives or flavours.
Jenaer Senfmanufaktur und das kleine Senfmuseum
Drackendorf-Center 3
07751 Jena-Drackendorf
Markt 11 coffee roasting house and café (Andreas Raab): What is the secret to a perfect cup of coffee?
As well as high-quality ingredients, the most important thing is the roasting of the coffee beans. We roast and refine our partners' international coffee specialities in the traditional manner in drum roasters. The coffee is served, in fitting style, in a warmed cup made from fine Thuringian porcelain. A good cup of coffee always goes down a treat, whether you're on the sofa at home, in our coffee shop or on the go. It's best enjoyed with a speciality cake from Thuringia or a traditional homemade amaretti biscuit.
Markt 11 Kaffeerösterei &-betriebsgesellschaft mbH & Co.KG
Markt 11
07743 Jena
Landgrafen restaurant and events venue (Daniel Reichel): What is special about staying in Jena?
The city is special because of its location: there are wonderful ridges that you can walk along – and you are in nature in no time. When visitors come to Jena, it's important that they feel looked after in every way. We place great emphasis on providing a professional service and offering high-quality food that is locally sourced and beautifully prepared. It's also important that we know most of our suppliers and the stories behind their products. The range of food and drink in the city is international. Typical Thuringian fare can be found in the surrounding region, where traditional inns serve Thuringian dumplings that are still made from scratch.
Landgrafen Restaurant & Event GmbH
Landgrafenstieg 25
07743 Jena
Philisterium – museum café (Brigitte Haucke): What's the best way to spend a coffee break in Jena?
A break for a drink or a bite to eat is a must on any visit to our exhibitions on local history and art. You can then digest everything you've seen and read over a cup of coffee or a glass of wine. The Philisterium café inside the museum is a popular place for doing just that. Locals and tourists alike enjoy having a coffee here. The museum café is furnished in the style of an old-fashioned student bar from centuries past and it's a lovely place to while away the hours. Here, you can sit quietly and chat over a coffee, tea, cappuccino or espresso. In the small restaurant, you can also enjoy a culinary homage to Henry van de Velde or Minchen Herzlieb.
Philisterium – Das Museumscafé in der Göhre
Markt 7
07743 Jena
More information on the 'Culinary Thuringia' project can be found here.