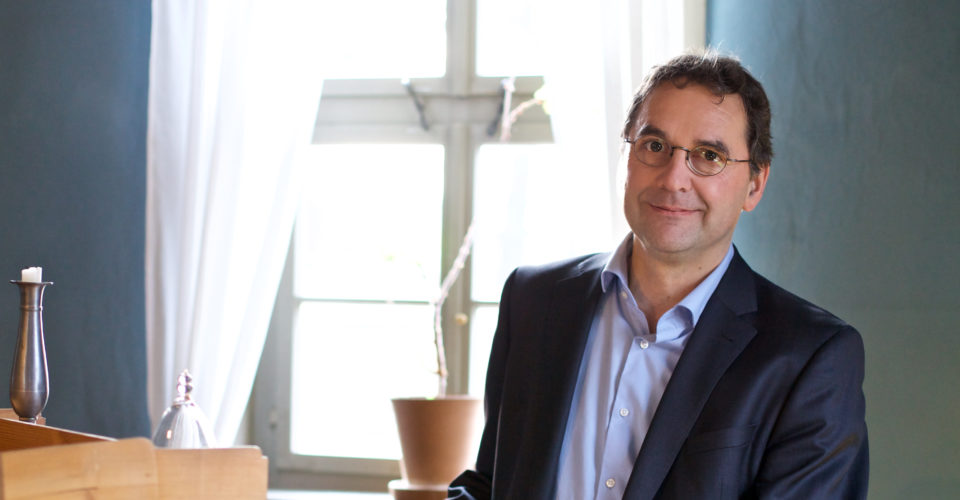 In terms of Schiller, Jena is the most important city in Germany
Goethe and Schiller, Hölderlin and Fichte, Schelling and Hegel – these are only a few of the acclaimed poets and philosophers who have lived and worked in Jena. Dr Helmut Hühn, head of Schiller's summer house and the Goethe Museum in Jena, is an expert on those luminaries and on the city. In this interview, he looks back at Jena in around 1800, when it was still a small, insignificant backwater, and explains why this period is so important for the modern day.
You have come straight from a tour of Schiller's summer house. What is the best thing about showing people around this historical building? 
I have just done a tour with visitors from Uzbekistan. It's great to be at a place that attracts people from far and wide. It shows that, two centuries on, the legacies of Goethe and Schiller are still so important that visitors come here from all over the world.
In around 1800, all kinds of philosophers could be found in Jena.
What would you imagine it was like back then?
At that time, Jena was a small, insignificant backwater. The town had a population of around 5,000 people and was situated in a region of outstanding natural beauty. The university attracted young talents and made a name for itself across Europe. Without the university, the city's cultural scene would never have flourished as it did. Jena experienced a cultural heyday in around 1800, not only in terms of literature but also in philosophy. Great thinkers wrote great works here. What is special about it is that different movements were present at the same time. We had proponents of Late Enlightenment, Early Kantianism, Early Romanticism and Early Idealism all discussing their ideas with each other in Jena.
And Goethe and Schiller were at the centre of it all. Because that was when modern culture as we know it first emerged. 200 years ago, the world in which we live today was shaped here. A consciousness developed that was aware of its own historicality and of the culturality of human thought, creation and judgement.
How was it that Jena became such a 'hotspot' in around 1800?
The network of people around Schiller and Goethe had an incredible appeal. These were writers who had achieved great things. The aspect of freedom was also a decisive factor. The fact that so many of the young philosophers who moved to Jena came from Swabia was entirely down to the political situation. Schelling, Fichte, Hegel and Hölderlin had an excellent education at the Stift in Tübingen but the political conditions there were less liberal than in Jena. As more and more young intellectuals came to Jena, the city's appeal grew. This also led to publishers, such as Frommann, establishing themselves here. It had a snowball effect.
In 1806, Napoleon invaded Jena – what significance did this event have? 
The battle of Jena and Auerstedt was immensely bloody – Homer would have called it a slaughter of men. This kind of devastation had far-reaching consequences and laid waste to institutions at the university, such as the botanical gardens. It was an event that brought about deep cultural and political uncertainty. People had to muster new strength. Hegel wrote 'The Phenomenology of Spirit' at this time – a masterwork of philosophy. He sees Napoleon riding through the city and speaks of "the soul of the world seated on a horse". The Battle of Jena and Auerstedt was an event of global historical significance and was a political and cultural turning point for the city.
You are also head of the Goethe Museum. Goethe tends to be associated more with Weimar. What connection did he have to Jena?
Goethe obviously lived in Weimar for a much longer time. But if you add up all his stays in Jena, he spent a total of more than five years here. Goethe was heavily involved in the university and had a significant influence on the structuring of the natural sciences. He himself had a very keen interest in the natural sciences and studied botany, anatomy and mineralogy in some depth. Goethe saw to it that the individual institutions and their collections were expanded. This is an achievement that cannot be underestimated. For Goethe, Jena was also a place of leisure. In Weimar, he held a ministerial post, but in Jena, he could unwind and debate with his contemporaries. Jena is also important as a place where Goethe wrote. He lived in a small room in the city palace and made a tally on the window frame of all the works he wrote there.
Great figures from this time frequently visited Schiller in his summer house.
How might such a meeting of intellectuals have played out? 
Schiller moved to the summer house to escape the confinement of the city. He wanted to work here in peace, but he had become so well known by the mid-1790s that many people wanted to come by and see how this famous writer and poet lived. The close circle of friends who were invited by Schiller himself included Goethe and his Swabian friends, with whom he formed a kind of philosophers' club. Incidentally, this was not purely a circle of men – women were also included. These people would go in and out of Schiller's house. Other guests would be received outside in the pergola in the hope that they wouldn't stay too long, so that Schiller could soon get back to his work.
Where is the best place in Jena to retrace the steps of Schiller and Goethe?
Schiller's summer house – and I am not just saying that because I am responsible for that particular attraction! It represents the culture of friendship, correspondence, debates and university life that emerged at that time, around 1800. The house has barely been altered; it still has the original floorboards that Schiller and his visitors walked on.
The summer house is a remarkable reminder of Jena's culture during that period. When it comes to Schiller, Jena has been overshadowed by Weimar a bit in terms of recognition, even though he lived here for ten years. That is the longest period he spent anywhere. But of course it's not just about the time he spent in Jena, but about the truly incredible work he produced over those ten years. In terms of Schiller, Jena is the most important city in Germany.
Jena is known as the city of light. Optics and Carl Zeiss immediately spring to mind – what associations does this have for you, as a historian and humanities scholar? 
If you stand outside Schiller's house, you can see the extension on the right-hand side, which was built by Ernst Abbe, the partner of Carl Zeiss. Abbe lived in the house for eight years – this is where he held his first important meetings with chemist and glass technologist Otto Schott. You are therefore standing before a part of the university's distinguished history. The two great traditions of the university are united in the house: the philosophical and artistic tradition of the period around 1800, and the scientific and technological tradition, which is closely associated with the founding of the optical industry in Jena.