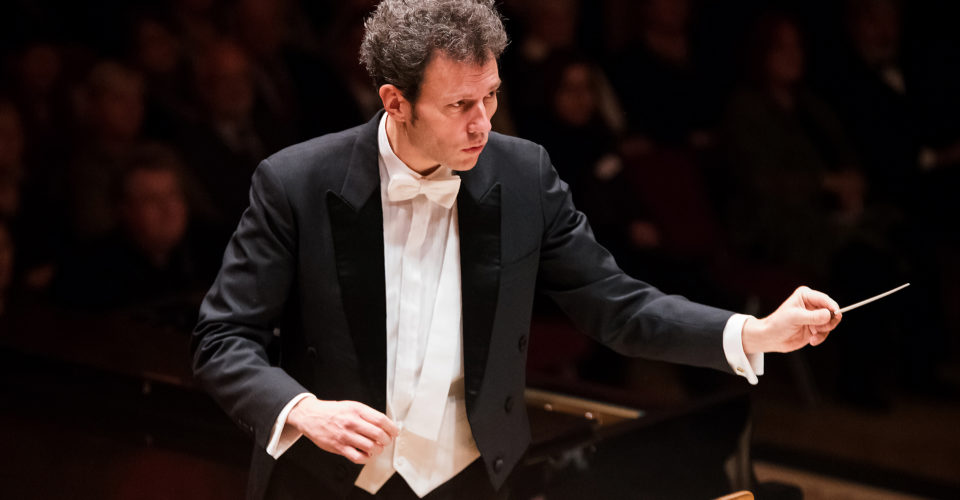 Award-winning conductor, nature enthusiast, Jena newcomer but still Swiss at heart: Simon Gaudenz is Music Director Designate of the Jena Philharmonic Orchestra. In this interview, he talks about his first visit to Jena and his plans and expectations, and explains why you don't have to dress up to attend one of his concerts.
You are facing high expectations, Mr Gaudenz. What was going through your mind before your first appearance as principal conductor?
Quite a lot of things. For instance, I was wondering whether the orchestra would be in the same shape, and play with the same quality as it had done during my concert in April 2017. Back then they were playing a completely different repertoire, and it takes a certain amount of time before you know how to assess an orchestra. But right after the first rehearsal it became clear that we would be able to build on their high level of quality, their attentiveness and their passion for playing. That is what I find most motivating in my job – the enthusiasm on stage and behind the scenes, the sense of innovation, of expecting something new, and I would very much like to live up to that.
What is the biggest challenge for you in your new job in Jena? 
If we draw a comparison with a precious gemstone: it needs to be polished so that it shines in a way that truly reflects its quality. The calibre of the orchestra and the musicians is exceptional – this strength just needs to be made more relevant. There has to be a greater perception of what the orchestra already is: an orchestra for the whole city, its people and, of course, its visitors.
How would you like to make the orchestra more relevant?
One of our goals is to bring people to us, into the Volkshaus. But that cannot be the only solution. We also need to actively reach out to people. Find out where they like to go, and then meet them there. That means a greater involvement of the university, for example, and of the Volksbad arts centre. We need to expand our collaboration with the excellent Kulturarena festival, and to try out new venues where you wouldn't normally expect to see us. The orchestra can play with a smaller line-up, or use shorter formats.
Concerts do not necessarily have to last two hours, and you don't always need to turn up in formal wear.
There is still a certain level of inhibition, and I would like to lessen that.
What musical ideas would you like to implement? 
I am contemplating a repertoire of yearning: a selection of works that are ‒ for many people ‒ the very reason for coming to a concert. They are pieces that they know and love. And the trick is then to be able to surprise visitors as well with a repertoire that is rarely played.
The city of light, Schiller, Zeiss,… these are names and bywords that are immediately associated with Jena. Can Jena's music scene compete with those? 
It depends what you mean by 'compete'. One task will be to promote Jena far more as a city of culture so that a comparison is not always made with Weimar ‒ Weimar being a city of culture and Jena a city of science and technology. There is a lot happening in Jena on a musical and cultural level. And not only in the field of classical music.
For example, I recently spent a wonderful evening at the 'Theatre in Motion' festival. A small but fantastic festival dedicated to dance theatre, the calibre of which you would expect in cities like Berlin. I am certainly very excited about the prospect of meeting many potential new partners and colleagues from Jena's arts scene.
What was the attraction of working in Jena as a conductor?
First and foremost, the musicians. After all, it is all about playing music with other people. We play for people but we also play together with people. The potential, the passion for playing, and the high calibre that this orchestra already possesses ‒ those were the things that persuaded me to come to Jena. I also see great potential for creating things that we don't yet have. Being flexible, going out to the people – there are many opportunities open to us, as nothing is set in stone. There is a lot of momentum right now. Young people usually bring new momentum with them, as well as the hunger, desire and will to bring about change.
Have you already had time to look around the city a bit? Do you already have a favourite part of Jena?
At the moment, I like the city centre best of all. Wagnergasse, the theatre. I imagine that I will get to know the city gradually over time. When I was in Jena before, the focus was on planning, work, concerts and rehearsals. I would like to get to know the city in the company of local people. Perhaps one or two of the musicians will show me round and share a few insider tips.
How do you balance your personal life and your heavy work schedule? 
By heading out into nature. I'm pleased to say that Jena is a little similar to my home town of Basel in that respect. City and nature are very close to one another. Jena also has a river, the Saale. It's admittedly not as big as the Rhine, but there is a similarly mild climate. Looking at it like that, I am quite at home here. If I really want get away from it all, I head to the mountains ‒ by that, I mean the mountains of Switzerland. Being Swiss, I am of course a little biased, but it's simply a very special place to be and I feel at home there. But perhaps the hills of the Saale-Horizontale will become my new place of yearning in Jena.