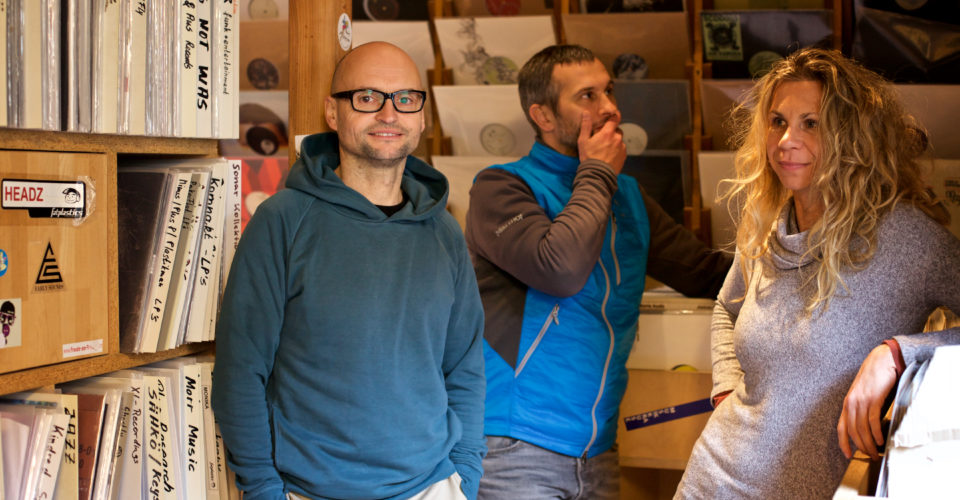 Record label founder, organiser of music events and an institution in Jena's club scene: Thomas Sperling is a multi-talented music producer who pulls the strings in the background. The 49-year-old has created quite a stir in Jena's music scene with his Freude am Tanzen record label, the associated booking agency, a record shop for electronic music and his involvement in the cult club Kassablanca.
Local talent on the Freude am Tanzen label
Music has always been very important to Thomas Sperling: "I used to listen to electronic music back in the days of East Germany. After the fall of the Berlin Wall, we asked ourselves what else might be out there, so we went to Berlin, Leipzig or to other cities to hear the music there. At some point I thought, if they can do that there, why can't we do it here?" No sooner said than done. Thomas Sperling, born in nearby Apolda, started to organise electronic music parties in Jena. They became the Freude am Tanzen (joy of dancing) events. After that, in 1998, came the music label, which Sperling founded together with Sören Bodner and Gabor Schablitzki:
We noticed that there were people out there who were not only playing records but also making music.
It was a matter of giving these artists a platform: "My original idea was to support talented people in our local area and to get something off the ground with them." In the early days, the trio initially released only a few records, but since 2001, the label has been professionally managed. In 2002, Grit Sachse and Mathias Veith joined the team. The music was still the main focus: "There was no master plan to make millions from the label. It was all about the music – it's the way to reach people." Around ten artists are currently signed to the label, including Mathias Kaden and Marek Hemmann, who have had great success all over Europe.
Kassablanca – a melting pot of creativity
The history of Freude am Tanzen is inextricably linked with the Kassablanca club in Jena: "Without Kassablanca, we wouldn't have had the label or many of the artists in the city," Thomas Sperling explains. "It's important to have a club that covers different genres of music and allows people to get on with making music – giving them time and space to develop and play with ideas, and then the opportunity to implement these ideas at events or workshops." The idea of opening a club in Jena dates all the way back to German reunification. Kassablanca has been going now for almost 30 years and has moved four times to three different locations in that time. Its current location at Westbahnhof was purpose built: "We collaborated with the city on our plans for the club – on everything from the position of the bar and the power outlets right down to the design of the doors," Thomas Sperling explains, who still develops events concepts for the club today.
The 'Kassa' is still a forum for all kinds of artists.
Although the focus is on music, the club also works in partnership with the Theaterhaus in Jena, as well as hosting cinema evenings, talks and readings. On top of that, there are workshops for DJs and musicians as well as projects such as the sewing café. The club is also a venue for the local breakdancing scene as well as graffiti artists, who can let their creativity run wild on the sides of the club's railway carriages. "It's a very diverse place and that is important for Jena," says Thomas Sperling.
Fatplastics Record Store – a paradise for record collectors
As well as the label and the associated booking agency, Thomas Sperling has also been running the Fatplastics Record Store on Schillergässchen since 2001, together with Grit Sachse, Sören Bodner and Mathias Veith. Every inch of the store has been put to good use: it stocks a collection of 15,000 records in a space of only 30 square metres. The focus is on electronic music. The aim is to keep the shop running for as long as possible despite the growing use of digital technologies. The iconic vinyl format is still in demand: "There is music that is only available on vinyl, and there are people who like to play records," says Thomas Sperling. "Our customer base is a mix of DJs, vinyl enthusiasts and record collectors."
Jena's music scene would certainly be less colourful without Thomas Sperling and his colleagues at the Freude am Tanzen label. It's in no small part down to them that the city has made a name for itself throughout Germany as a hotspot for electronic music. Not only have they regularly brought international names in the electronic music scene to Jena, they have also created a breeding ground for new talent through their record label, club and more besides.